Recovery is about coming out of hiding and uncovering layers of defenses that are no longer needed to survive. These very defenses hold you back from living a more free and authentic life. To uncover these defenses, we must re-experience the original pain of our traumatic past that has altered our authentic selves. By peeling away these defenses and allowing ourselves to feel the feelings we have been avoiding, we then process the hurt, fears, unwanted emotions, grieve it and finally release it, so we never have to guard against them again.
Meet Joe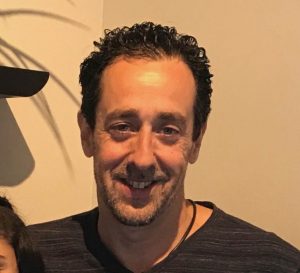 Joe Ryan is a Certified Peer Support Counselor who knows trauma because he's lived it and learned to live beyond it.  Joe has been on a lifelong journey to overcome trauma, shame, and the demons that plagued him early in life. Joe is turning his mission outward, helping others conquer their traumatic experiences through his podcast ("It's Not You, It's Your Trauma") and one-on-one coaching.
"it didn't take years to get me to transformation and self-understanding— the breakthroughs began in weeks"
Joe is paving the way for people to heal.  He is baring his soul for all to see and, through this bold action, is extending his hand to people that might feel stuck or frozen in place, unable to move forward in their healing journeys. There are many recovery coaches in the world doing great work.  Joe stands apart from the rest by virtue of his warm, compassionate voice and rich experience that come together to create and hold safe spaces that encourage feeling, expressing, processing, understanding, and ultimately healing and thriving.
The Journey
I know this can be a scary step to take. While living in shame, self hate, and isolation, I was terrified to come out of hiding. I was terrified to be seen by anyone, and I could not bare to look at myself. Once the emotional pain I had been living with became greater than the fear of coming out of hiding and being seen by myself and another, that was the day my life changed forever. I started working towards becoming the person that I had always wanted and needed to be there for me. I learned how to live the life I wanted without the emotional guilt and shame instilled in me. I now get to be that person for others.
"Joe is especially strong when it comes to being a compassionate witness to pain and a strong recovery role model at the same time."
I look forward to working with you as we uncover the past and the issues holding you back. There is a place under the anger and hurt where joy lives. That is where we are headed, through the pain, towards the joy. We do this by uncovering the layers of defenses that protect us from the pain and discomfort we feel. By looking at our family system and the role we play in it. We don't need to carry these defenses anymore; we are safe without them; we haven't learned that yet. As we peel away each layer, we expose ourselves to the pain and fear we have avoided. We feel the feelings we fear, recognize our patterns, acknowledge, grieve, and move through them. We own our past, and once we do that, it can no longer hurt us.
Getting Started
I understand how difficult and fearful this process can be. I do not have a cookie-cutter approach to coaching. I tailor my approach to the individual needs of each client.  I have clients on five continents, many different nationalities, religious backgrounds, political backgrounds, economic statuses, and sexual orientations. My clients could not be more different, yet they all have one thing in common,  the desire to feel better about themself and live their best life.
Coaching sessions are one hour long. Sessions are done via Zoom. You need to show up for your recovery in the best way for you. I leave the frequency completely up to you. Some clients are once a week, some bi-weekly, and others once a month. Coaching should not be a lifelong commitment. I want you to feel better and move forward soon as possible. The goal is to become empowered with knowledge, tools, and practices. To build trust, confidence, and competency within yourself to live the life that you want, the way you want.
Schedule a free 15-30 minute consultation, if you have any questions or would like to skip the consultation and schedule a full coaching session email me via the About Page.
Book A Free Consultation
(Only schedule if you are sure you will follow through. Don't take a spot from others who are ready.)
Breakthroughs Began In Weeks
Joe Ryan is probably the most insightful human being I have ever encountered. I've worked with other therapists and coaches, but until I met Joe, I have never done work at such a profound level. With him as my guide, it didn't take years to get me to transformation and self-understanding— the breakthroughs began in weeks. He deals with raw and real and takes you to places you didn't even know you had inside you. I came across his podcast and coaching by chance, and they have been life changing. If you are thinking about working with him and are open to exploring an alternative pathway to peace of mind, you are at the right place.
Pain Into Hope
Joe is a perfect example of taking pain and turning it into hope for others. He is highly skilled in relaying lessons he's learned while navigating his own life and mental health challenges. He displays a strong drive to help others overcome the same obstacles he's had to overcome. Joe is especially strong when it comes to being a compassionate witness to pain and a strong recovery role model at the same time.
Validating, Respect, and Mirroring.
One of Joe's biggest strengths is being able to understand what his client's needs are and when to talk versus when to just listen. In all of the sessions we've had, every time, he has met me exactly where I needed to be. I have felt immensely supported by Joe throughout our coaching relationship. Throughout our sessions he helps me feel like "I'm not crazy," or "I'm not alone," and the feelings I have are completely normal for me or anyone in my circumstances.