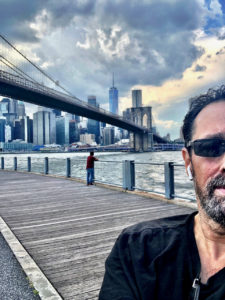 Joe Ryan is a Certified Peer Support Specialist who knows trauma because he's lived it and learned to live beyond it.  Joe has been on a lifelong journey to overcome trauma, shame, and the demons that plagued him from early in life. Joe is turning his mission outward, helping others conquer their traumatic experiences through his podcast ("It's Not You, It's Your Trauma") and one-on-one coaching.
Joe is paving the way for people to heal.  He is baring his soul for all to see and, through this bold action, is extending his hand to people that might feel stuck or frozen in place, unable to move forward in their healing journeys. There are many trauma and recovery coaches in the world doing great work.  Joe stands apart from the rest by virtue of his warm, compassionate voice and rich experience that come together to create and hold safe spaces that encourage feeling, expressing, processing, understanding, and ultimately healing and thriving.
Father of two…
I take pictures, write, and obsess.
You can find Joe bouncing around New York City or by a lakeside fire. I was on a Pearl Jam kick, now starting my day with The Revivalists.
If you would like Joe to be a guest on your show, speak at a conference,  or want to say hello, send Joe an email.