EP 0004 – Step One, Fed Up And Stripped Down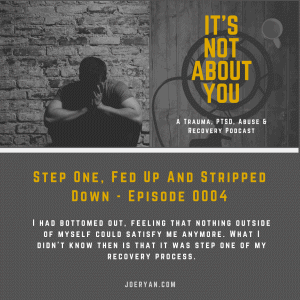 Nothing was working for me anymore. All that has brought me joy and happiness no longer did, and I had no idea why. Motivation and desire were absent from within me, and all I could do was sit in sadness. I had bottomed out, feeling that nothing outside of myself could satisfy me anymore. What I didn't know then is that it was step one of my recovery process. I had slowly stripped away all the people, places, and things that once made me feel good. I stopped pretending I was okay and just started to be. I sat with the feelings I have always avoided and started to explore myself and the world alone. Instead of doing where I relied on others, I starting doing where I only relied on me. The new things I discovered slowly started to become a foundation of self-trust, competence, and the core of me.
Listen Here
Become A Subscriber For access to this episode and bonus content.
Coaching With Joe
Empowering Individuals To Break Free From Past Traumas, Embrace Confidence, And Navigate Life With Unwavering Resilience And Inner Strength.
Schedule a free 15-30 minute consultation (Learn More)