EP 0043 – Anger and Boundaries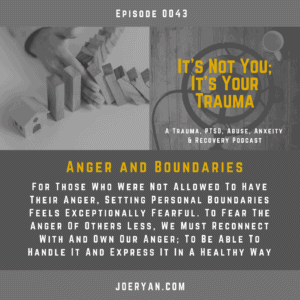 In this episode, Joe talks about how to deal with anger and not being afraid of being angry or having people being angry at you. Avoid feeling like you have to be a "people pleaser" to avoid people getting angry with you!
Learn to set boundaries and to not allow people to disrespect you and cross lines. Learn how boundaries can make everyone involved feel uncomfortable, yet become easier over time to set and manage. Overall a short but to the point revealing episode that effectively brings to light a crucial interpersonal relationship rule for those struggling with feelings of avoiding showing angry at all costs!
Listen Here
Become A Subscriber For access to this episode and bonus content.
Coaching With Joe
Empowering Individuals To Break Free From Past Traumas, Embrace Confidence, And Navigate Life With Unwavering Resilience And Inner Strength.
Schedule a free 15-30 minute consultation (Learn More)