EP 0042 – Fearing Emotional Layers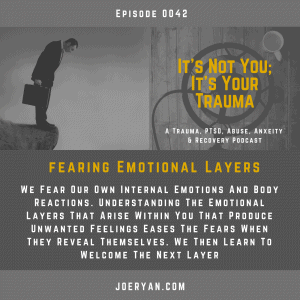 Episode 42 delves into the subject of dealing with numerous levels of emotions and how it affects your fears, anger, resentments, and how you manage those internal ques that will arise.
Learn how internal emotional reactions can lead to a downward spiral that includes further depression. See how controlling emotions is crucial and not letting people tell you that "you have no reason to feel (insert the emotion- sad, lonely, etc), even though you don't know why you feel like you do.
Additionally, the topics of "Levels of Defenses" and "Controlling Your Biggest Fears" are covered along with
"Learning How to Properly Heal Emotionally", the same way you would recover from a physical ailment like a cold or flu brings home a major revelation most people don't. Learn how this makes complete sense and why you need to change the way you heal mentally to mirror the same steps you do physically when you are feeling under the weather!
Listen Here
Become A Subscriber For access to this episode and bonus content.
Coaching With Joe
Empowering Individuals To Break Free From Past Traumas, Embrace Confidence, And Navigate Life With Unwavering Resilience And Inner Strength.
Schedule a free 15-30 minute consultation (Learn More)