EP 0041 – Feeling Work vs Self Pity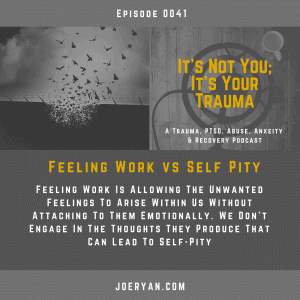 In this episode, Joe dives into the topic of feelings, thoughts, and self-pity. See how emotions take you over and how you should just let thoughts just "be." Learn how self-pity can actually be a good thing in your grieving process.
Find out how going deeper into your pain can eventually lead you to greater joy in life. Learn to expose yourself to your fears and learn how to make them part of your daily existence. Dealing with situations that can lead to rejection makes everyone uncomfortable, and the natural reaction is to try to avoid it. Joes' response to that is to face it head-on and put in the work to turn your nervous system down to become more comfortable with these scenarios….scenarios that are currently destroying your peace!
Finally, hear how re-living those negative experiences in your mind will allow you to become stronger!
Listen Here
Become A Subscriber For access to this episode and bonus content.
Coaching With Joe
Empowering Individuals To Break Free From Past Traumas, Embrace Confidence, And Navigate Life With Unwavering Resilience And Inner Strength.
Schedule a free 15-30 minute consultation (Learn More)