EP 0045 – What's Your Secret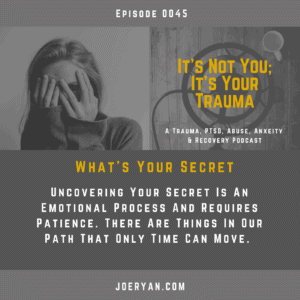 What is below all those layers you have built up? What are you hiding down there? What is your secret?
Uncovering your secret is an emotional process that can't be forced, it requires patience. There are things in our path that only time can move.
While we wait for the next layer to reveal itself, we allow ourselves time and a safe space to grieve the previous layer and feed our soul as part of the healing process.
Listen Here
Become A Subscriber For access to this episode and bonus content.
Coaching With Joe
Empowering Individuals To Break Free From Past Traumas, Embrace Confidence, And Navigate Life With Unwavering Resilience And Inner Strength.
Schedule a free 15-30 minute consultation (Learn More)