EP 0047 – Work Through the False Self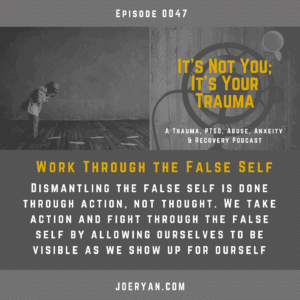 Dismantling the false self is done through action, not thought. We don't think our way out of the fear of being seen. We take action and fight through the false self by allowing ourselves to be visible as we show up for ourself
Joe discusses how the false self shows up in relationships and tries to get its needs met through others, how our family systems keeps us trapped in our role. What we can do to slowly dismantle the false self as we discover who we are through action.
Also In This Episode:
– Coming out of hiding
– Wounds and relationships
– Carrying your family system
– Building a relationship with yourself
– Feeling safe from the inside out
– Work through the false self
Listen Here
Become A Subscriber For access to this episode and bonus content.
Coaching With Joe
Empowering Individuals To Break Free From Past Traumas, Embrace Confidence, And Navigate Life With Unwavering Resilience And Inner Strength.
Schedule a free 15-30 minute consultation (Learn More)