EP 0058 – An Unstuck Story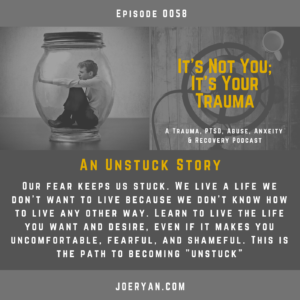 An Unstuck Story is a powerful confession of Joes' dramatic struggle to come to grips with his inability to do what his soul cries out for, not what is expected of him as a father, friend, son, and ex-husband. This episode deals with how to condition yourself to reach a point of doing "what will make you happy" vs "what everyone expects you to do". Don't sacrifice your own happiness…Identify your happy space and build the confidence needed to travel down that path to reach that point.
Topics in this Episode Include:
We live the life others need us to live..not always the one we want
Our soul wants what it wants…our fears keep us "stuck"
Creating a life that brings joy, peace, and happiness
Starting the process of being "Unstuck."
Struggling with self-worth, guilt, and hesitancy in following a path of happiness that conflicts with what people around you expect from you? The path to becoming "unstuck" is revealed and provides basic insight on how you can do this in your own life to reach your "paradise". The relief and internal peace you gain from listening to this episode is invaluable to your journey! Travel down that road with Joe and experience the relief and justification for your suppressed feelings and emotions by connecting with Joe's moving confessions.
Listen Here
Become A Subscriber For access to this episode and bonus content.
Coaching With Joe
Empowering Individuals To Break Free From Past Traumas, Embrace Confidence, And Navigate Life With Unwavering Resilience And Inner Strength.
Schedule a free 15-30 minute consultation (Learn More)