EP 0029 – The Next Layer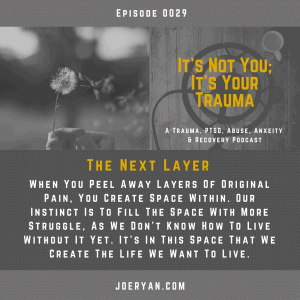 Living without pain can feel more frightening than living with it. The struggle became a part of our identity, and we don't know who we are without it. We are uncomfortable feeling comfortable and run to fill that space with something familiar, welcome back self-sabotage.
Put life on pause, and sit within the space. It does not need to be filled; fight the urge to fill it. Teach your body and mind that you are okay with being free of fear. It takes time to get comfortable without something that has been such a big part of our life, even if that 'something' is painful.
When we know that we are no longer controlled by fear, we realize we are free to choose the life we want.
Listen Here
Become A Subscriber For access to this episode and bonus content.
Coaching
Schedule a free 15-30 minute consultation (Learn More)
Subscribe and Listen