EP 0060 – Release The Pain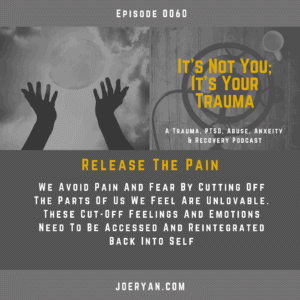 Release the Pain is a discussion based on a highly controversial Instagram post Joe made that stated 'the fear you feel in your body is not happening now, it's fear from your past that has been trapped inside of you"….Go back and re-experience the fear to release it". The reaction from some readers triggered surprising push back, anger, and even hate!
This episode delves into the process and reactions when allowing your thoughts and emotions to duke it out… to let them have a dialogue while you sit there as an innocent bystander and not mediate between the two.
Topics in this Episode:
We have things that happen where we don't feel validated, and we don't feel loved thus causing negative emotions. What happens when you express those feelings?
What happens when the brain and the nervous system start to have a dialogue when dealing with suppressed feelings of frustration and anger?
Learn to heal and not to avoid the pain and hurt in the process
Teach your brain, your body and your soul to handle any discomfort you feel from within
Fear, Humiliation, Feelings of Being Inadequate…how do you handle all of these feelings and how can you fix it? Listen and find out how Joe has learned to deal with it and how you can too! This powerful exercise helps you learn a technique Joe has found to handle the conflict he deals with often, and how it has helped him to better cope with these conflicting forces from within.
Listen Here
Become A Subscriber For access to this episode and bonus content.
Coaching With Joe
Empowering Individuals To Break Free From Past Traumas, Embrace Confidence, And Navigate Life With Unwavering Resilience And Inner Strength.
Schedule a free 15-30 minute consultation (Learn More)