EP 0064 – Emotional Incest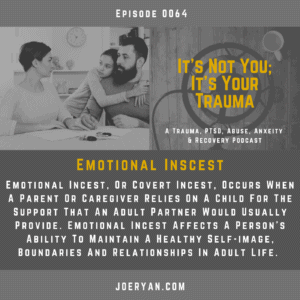 Do you find yourself watching what everybody else is doing or how they were feeling? What their anger level or resentment level may be? Are they overwhelmed or feeling peaceful? Is this a safe time or is it a fearful time?  Is your inner safety based on the people around you? If so, you may have experienced "Emotional Incest" as a child. These feelings are the outcome of something deeper that you couldn't comprehend back then…even though you may have sensed something wasn't right in how you were treated by a parent(s).
The topics in the "Emotional Incest" episode delve into how parents use their children to fill emotional holes in their life that stem from an unfulfilled marriage, and how that ultimately affects their ability to maintain a healthy self-image, and relationships in their adult life. Joe uncovers a number of emotions one feels when experiencing this sort of treatment and the steps necessary to course correct yourself now, and in the future. This episode covers many examples of what may be holding you back from being able to have a loving, caring, mutual "give and take" partnership with that special someone. These issues discussed have impacted many of us on different levels, with the greatest level being the recipient of "Emotional Incest".
Topics in this Episode:
When two parents are not getting their needs met by each other, they will triangulate and try to get their needs met by their children.
How can you rebound from being the recipient of Emotional Incest?
Learn how to find your worth and value to give yourself the things that you have given away
Learned how to set boundaries- learn how to say no, to stand up for yourself, and to say this is where my emotional responsibility for you ends.
Break the pattern of people pleasing and learn to take care of yourself- start loving yourself!
Emotional incest victims don't know who they are or what they feel. They know what everybody else feels. Stop giving away your complete self from a place of deficiency. Work towards establishing a balance of give and take and avoid the feeling of fear that if you are constantly not doing enough for other people or they will be quick to leave! The ability to eliminate these fears and to work on your own needs and self-worth are covered in this episode.
Listen Here
Become A Subscriber For access to this episode and bonus content.
Coaching
Schedule a free 15-30 minute consultation (Learn More)
Subscribe and Listen