EP 0070 – Sitting With Uncomfortable Feelings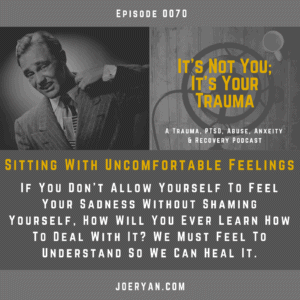 How do we sit with our pain? How do we learn to grieve loss, innocence, self-respect, and pride…all while learning to empower ourselves to live our daily lives?
In this episode, Joe discusses how we need to treat the pain we feel every day the same way we would grieve something even more devasting, like a death of a friend, partner, or family member. His message is that it is ok to take time for yourself to focus on your pains (mental and physical) and how he handles these overwhelming feelings to feel free and go on with his daily life.
in this Episode:
Realizing it's ok to wallow in your pain temporarily, just don't get stuck in it!
Learning balance- don't wait too long to let these feelings build over time and then try to take on too much at once
Make plans to sit with yourself as you plan to be with friends. Learn where your feelings reside and learn not to suppress these feelings but to sit with them to build your strength up over time
Learning to identify where these pains reside…if it's physical, where in your body does it reside and how you can rid yourself of it when it appears
Giving yourself some space to deal with your thoughts, feel discomfort, and don't try to run from it – avoid the distractions and focus on where the discomfort comes from and learn to release it
Learn to start the process the same way you would go back to the gym after years of sitting on the couch. Start small (light weights) and build this routine up over time until you can handle your bigger and more challenging issues.
Learning not to feel shameful for having to stay home just to deal with these feelings
Learning that all of your addictions won't fix your problems and remove the pains
This episode provides solid, practical advice on how to deal with all your pains and to learn how the only thing in life that is limiting you is YOU!
Listen Here
Become A Subscriber For access to this episode and bonus content.
Coaching With Joe
Empowering Individuals To Break Free From Past Traumas, Embrace Confidence, And Navigate Life With Unwavering Resilience And Inner Strength.
Schedule a free 15-30 minute consultation (Learn More)