EP 0073 – Recovery Requires Action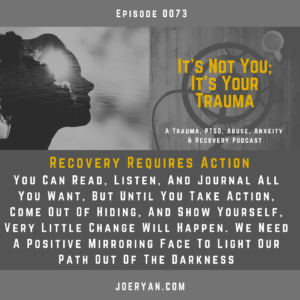 "Making the Right Choice" directly solves issues you currently experience in your own life with a simple message… "You Can't Do This Work Alone"
In this episode, Joe talks about the important changes he made in his life by finding the right person to guide him through the initial stages of breaking out from where he was at that time to starting to take meaningful actions to move in the right direction. He reveals that It begins with "being seen" and allowing someone you trust to help you move through the phases of an emotional child to a healthy, emotionally balanced adult. Acknowledging you can't do all of this alone is the first step and a perfectly acceptable way of attacking the issues head on.
In this Episode:
Having to admit that you need help from others, along with putting in the work needed to find the right "caregiver," is key
Learning to get out of your own way is a key step in the right direction.
Work on Being "Seen" and find positive "Mirroring" (the kind you didn't get as a child)
Experiencing the freedom that comes from being "Unstuck."
Having the peace of mind of knowing you are not going through this alone or that these issues and feelings are unique to you
Realizing Fear, Trauma, Anxiety, Panic & Shame doesn't go away by itself. Even with help, you have to keep putting in the work to move past these feelings.
Acknowledging that you are a strong person based on the mere fact that you have carried this pain inside you for as long as you can remember is powerful in your progress. It will help you to become brave and courageous to help you become humble and ok to accept help from someone qualified to help. There is no shame in asking for help…humble yourself and open up to somebody who genuinely cares for your well-being. You are going to have to trust someone at some point, even though you have that fear of being burned in the past by someone you feel has betrayed you. The choice to get help is yours…make the right choice!
Listen Here
Become A Subscriber For access to this episode and bonus content.
Coaching With Joe
Empowering Individuals To Break Free From Past Traumas, Embrace Confidence, And Navigate Life With Unwavering Resilience And Inner Strength.
Schedule a free 15-30 minute consultation (Learn More)